(Editor's note: As there is no U.S.-traded ticker, investors will have to trade on the Taiwan exchange under the ticker 8446:TT)
Take a wild guess of how big the Chinese music industry was in terms of downloads, streaming, and physical forms – with the US being at $6-7 Billion today.
Just two years ago in 2015, this figure was $150 million for the entire China, that's 1/40 of the US. Never before had piracy decimated an industry so much and for so long – throughout the entire 1st 15 years of the 21st century, Being an aspiring singer in China was synonymous to being broke - a sad state of affairs – and there was no way of earning a living making songs. Many talents starved chasing a dream pulverized by piracy, and for years, the joint selfishness of the public and a busy government turned their blind eyes to this issue – and it's in those days that music died.
Luckily for all of the young Bob Dylans in China, their world was turned upside down for the better at end of 2014 – almost overnight, the government and the tech giants of China alike cracked down on music piracy like nothing before – and this industry went from a dormant quagmire to growing 50-60% per year in a matter of weeks. It used to be that in 2011-2012, the big 3's total IP portfolio sells for <5 million USD
COMBINED, in 2015, this number jumped to at least $30-40 million USD, and as of today, these numbers catapulted well into the 100s of millions. There is little doubt in any industry participants' minds – and we have spoken to plenty – that this is the best time for Chinese music since the dawn of the century.
For all like-minded investors, the question becomes if there is a good way to play this, and the options are somewhat limited as you may imagine. None of the music platforms are public (Tencent Music (OTCPK:TCEHY), Alibaba's Xiami Music (BABA), and NetEase Music (NTES)) – not that we want to invest in them – and we believe the best way is via the IP content owners – aka the record labels. However, the big 3 are either not public (Warner) or within complex structures with China being tiny (UMG within Vivendi (OTCPK:VIVHY)+ Sony Music within Sony (SNE)), Japanese and Korean labels won't get to fully participate, given the natural language barrier, A-share list Co are not only of low quality, are hard-to-access for normal investors, but are expensive in our opinion. It begs the question –
does there exist a high-quality IP-content pure-play 100% exposed to Chinese music industry growth trading at reasonable/cheap valuation?
Enter HiM International Music (Stock code: 8446:TT) trading in Taiwan. It is an independent record label and artist management that holds agency contracts with 47 artists and perpetual copyright to 1,700+ songs recordings + 1,300+ lyrics and melodies. The company currently has $150 million USD market cap, $105 million USD EV, and $2.0 million USD average 12-month daily traded value. Via HiM International, a micro-cap listed in Taiwan, one gets to own perpetual rights to Chinese music stars of comparable stardom to Taylor Swift, Ed Sheeran, John Legend, etc. in an industry that is exploding for <10x 2018 ex-cash and investment property P/E growing 20-30% with a catalyst to deliver 40%+ EPS growth
We believe this is one of the most overlooked and mispriced assets in the market. Based on our analysis, the stock can double in one year with the potential of becoming a 5-10 bagger over the next 5-10 years, with a strong case of being acquired in short order.
Investment Thesis:
Favorable backdrop: As the Chinese government increasingly cracks down on piracy and the streaming revolution further accelerates, the Chinese music industry has been growing at a 35-40% CAGR over the last five years and is set for a 25-30% CAGR over the next five years.
No pure-play in market except HiM: music platforms account for tiny portions of Tencent, BABA, and NetEase. Vivendi's UMG is US/EU focused and a complicated SOTP story, Japanese and Korean labels enjoy only minute benefits. HiM is the only pure-play.
Premier Asset: HiM is widely considered to be one of the elite companies in Chinese music with one of the highest regarded management teams and ranks just behind the global majors (Sony, Universal, and Warner) in Chinese market share.
Low Valuation: ~10.2x 2018 ex-cash and invest. prop P/E vs. 19-20x ex-cash 2018 P/E for Asian and US/EU comps. If HiM maintains current market share (historically a market share taker), HiM could appreciate >4.5 x by 2025 based on industry growth even with no multiple expansion and 5-6x+ with multiple expansion.
Clear Catalyst: IP Contract renewals in March 2018 to drive 50%+ increase in 2018 pro-forma EPS vs. 2017 YE, translating to 6% dividend yield based on guided payout ratio. Recent IP-licensing comp by a competitor can point to as much as tripling or quadrupling 2017 EPS. HiM is a trophy asset for Chinese media and Internet companies (BABA, Tencent, NetEase, etc.) who view music as a key driver of customer traffic/loyalty on their platforms.
Point 1: Secular, exponential growth of the Chinese music industry
China used to be a market where piracy ran rampant, and no music label was able to collect much of anything – the industry as a whole ran at measly <100 million USD run rate for the most part of the 21st century. Since late 2014, however, the Chinese government put anti-piracy enforcement for online music front and center. This, coupled with the step-up of investments from leading Chinese tech companies, catapulted industry growth. The policy enforcement and sizable investment by large tech companies since 2014/15 mark a significant paradigm change for the Chinese music industry, and the age of piracy is no more – and the industry had been growing at 30-40%+ ever since.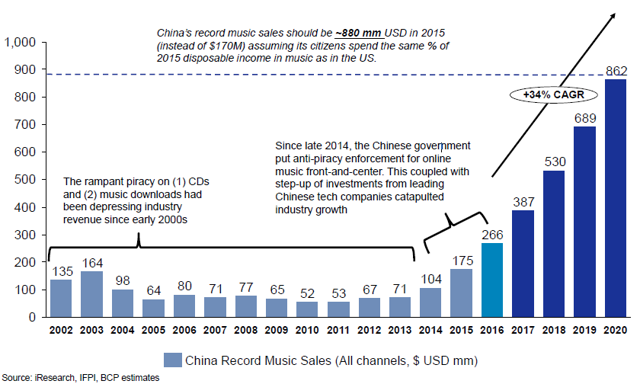 >
Importantly, as of 2015, despite having 2x more online music users, China's total digital music spending is 1/6th of the US even after adjusting for the disposable income differences between the two countries. Compared to other entertainment industries such as games and movies where China runs pari-passu to the US, the size of Chinese music industry pales in comparison.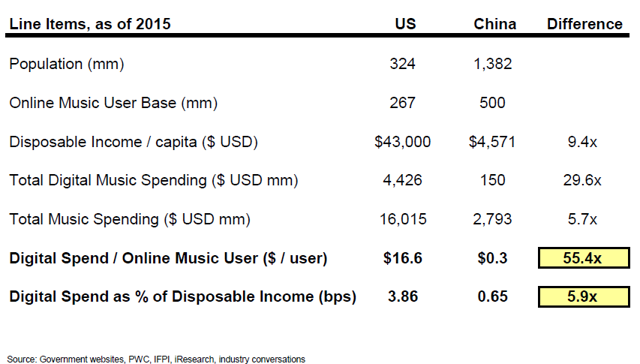 >
From various ways of triangulating the industry's growth, we believe the Chinese music industry will continue this 30-40% growth rate for years to come:
Industry contacts:
Expert 1 – Leading Chinese tech company's music platform: "Pointing to ~30%+ revenue growth for the industry with 20%+ paid user growth & 10%+ pricing over the next 3-5 years at least".
Expert 2 – Record company exec: "Taiwan…could reach 15-20%, Mainland should reach 25-30% at least".
Expert 3 – Record company exec: "There is explosive growth ... Everyone knows it's inflecting up massively".
Expert 4 – Record company exec: "China is leaping the download age…we are too big and under growing the market a bit, but our internal estimate is 25% growth over the next 3-5 years"
Published Reports:
Goldman Sachs, October 4, 2016: "China offers a useful case study of a large, under-monetized music market plagued by piracy where streaming is opening up sizeable new monetization avenues at a time when the value of IP is being increasingly recognized…We see significant growth potential"
iResearch, 2016 Music Industry Report: "Expect 52%/46%/37% Industry revenue growth in 16/17/18"
Bottoms-up math:

>
Point 2: Premier asset primed to ride the industry tailwind
For those that didn't grow up in China, we believe that HiM's current roster commands similar mindshare and presence in Taiwan and mainland China to the tier 1-2 stars in the US.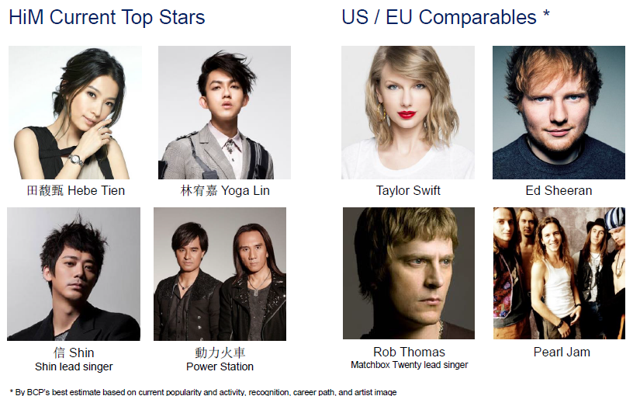 >
A few more impressive data points about them:
HiM's 2015 release "A Little Happiness" sang by Hebe Tien is the 1st and only Chinese music video on YouTube with >100 million views. It lasted 249 days as #1 on Taiwan's largest music streaming platform and had been re-sung in other language versions across Asia.
In 2015-2016, HiM's top star Hebe Tien is one of the most searched singers on Baidu (NASDAQ:BIDU).
HiM's other up-and-coming star, Yoga Lin, is widely considered to be the next top pop star when it comes to vocals, music creativity, and handling.
HiM had been hosting the only melody and lyrics competition in all of China for the past 13 years.
In 2005-2010, HiM boasted the most popular girl AND boy band in China (SHE & Fahrenheit)
Industry contacts we spoke with also think very highly of them:
Expert 1 - Record label founder: "A culture and content leader in Taiwan….a company to look up to for the Taiwanese entertainment industry".
Expert 2 – Record label exec: "Probably one of the top record companies in China with highly professional infrastructure … multi-faceted approach to development, good at managing artists' career".
Expert 3 – Leading streaming platform exec: "HiM in the Chinese music world, it's an extremely powerful force…top 4 quality IP portfolio and some of the strongest bench of songwriters & lyric writers in Chinese music".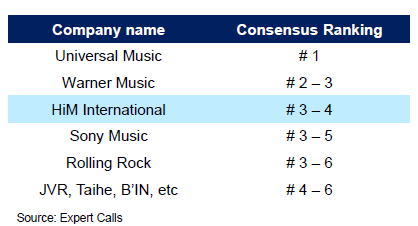 Aside from the profile, HiM's financial numbers are equally as impressive. Despite the challenging environment prior to 2015, HiM had an impressive record of compounding organically and improving monetization, all with limited CapEx and negative working capital. Importantly, working capital is a cash source for HiM as company grows, and HiM runs on negative equity if we strip out excess cash and investment property so ROE is infinite.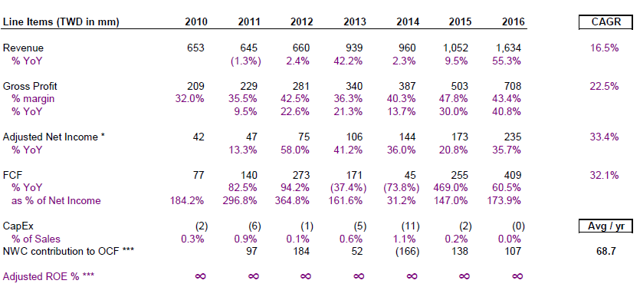 >
A bit more about the numbers - 60%+ of HiM's gross profit dollars come from IP licensing and is currently 70% semi-fixed (subject to renewals), leading to a strong recurring base.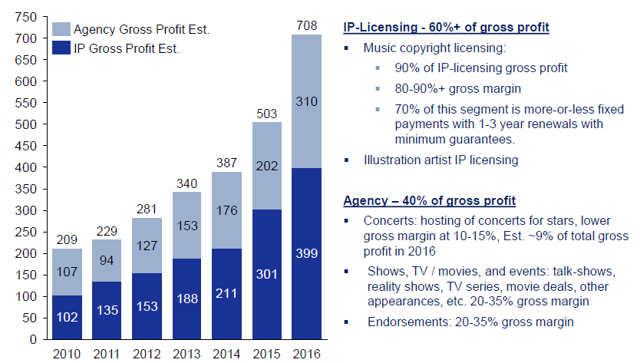 >
It's also rare that it's a management team that understands what's important - we believe HiM is singularly focused on maximizing shareholder value, as evident by management's comments around license economics, growth, the dividend, and M&A policy.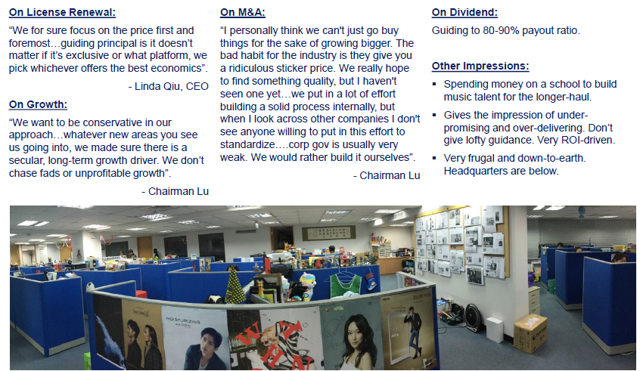 >
The best part is that you would be getting this company at a steal.
Point 3: Cheap valuation
HiM is on track for ~$7.50-8 TWD/share of EPS and FCF by 2018, implying 9.1x PE ex-cash and investment property, 12.5x headline.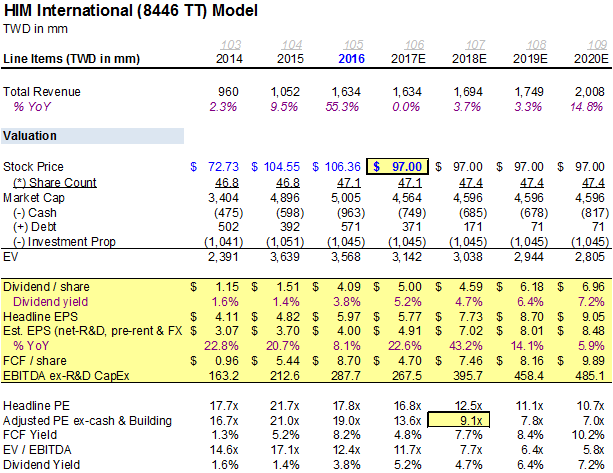 Assuming HiM can maintain its market share until 2025 as industry continues its 15-20%+ growth path, EPS is set to increase 4-5x vs. 2016 levels and the stock could be well over $600/share (5-bagger, 20% IRR over nine years)

Asian entertainment franchises, US media franchises, and global IP-driven franchises suggest 19-20x 2018 P/E as a fair multiple.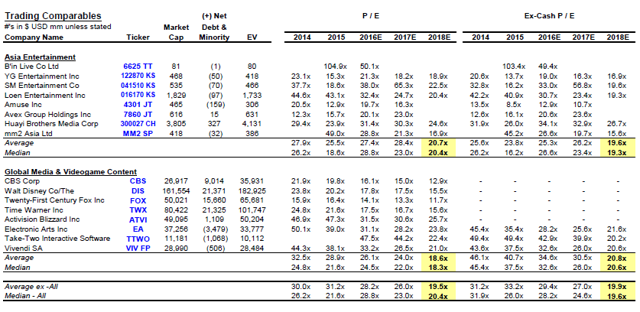 >
We think this opportunity exists for three reasons:
A small market cap of $150 million USD with limited sell-side coverage. The company only has disclosures in traditional Chinese and no Western funds as shareholders.
Being listed in Taiwan, a market dominated by retail flow and focused on monthly revenue and technicals.
The non-linear earnings growth driven by upcoming contract renewals requires significant primary research to uncover. As no other Taiwanese record label is listed, local investors do not have experience with this business model. Investors in general can often predict linear growth stories but can miss step-changes in earnings potential.
…and a catalyst is coming that we believe may cause the stock to rerate.
Point 4: Visible catalyst points to significant 12-18 month EPS growth acceleration
The math is simple. We think mainland IP-licensing is about 20-25% of gross profit for 2017. Assuming this portion roughly doubles and gets taxed at 25%, it would represent $2.50 of earnings bump vs. around $6.00 of earnings in 2017, a roughly 40% increase.
In fact, we think the best proxy for HiM's upcoming March 18 contract renewal is an exclusive deal signed by UMG with Tencent. Through primary research, we learned this may be around $150 million USD in annual contract value. Benchmarking the size of HiM's content library to UMG's suggests that HiM's 2018 implied headline P/E could be as low as 3.5x.

Another way to triangulate to HiM's value is that, with Taiwan's average dividend yield at 3.5–4.0% and HiM at 3.0-3.5% with 80% payout ratio, an 80% payout on FY18 EPS implies a 2x of current stock price.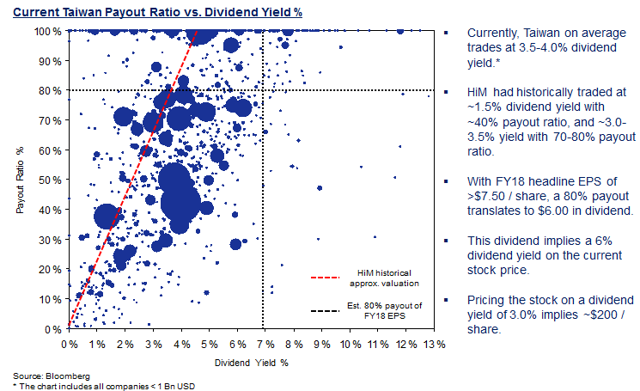 >
Point 5: Potential strategic value of stake
The best part is that we don't believe an asset like HiM should remain independent for long especially at these valuations. We believe both record labels and music platforms could be potential buyers of HiM, and the company itself has a precedent of monetizing:
Potential Chinese Music Platform Interest and Precedence:
Expert 1 – Music platform and record music exec: "Strategic stake in upstream? Very likely - why not? IP owner holds all the cards."
Expert 2 – Music platform exec: "Yes we do consider investing in upstream. Absolutely. This is our strategic view - we want to build an empire across IP. Taking strategic stake is absolutely part of our plan" Precedence
Baidu merged its music division with Taihe Music in December 2015
Alibaba acquired a 4% stake of SM Entertainment in South Korea on February 2016.
Tencent and its JV venture acquired a 12.7% stake of YG Entertainment in South Korea on May 2016.
Potential Strategic Consolidation:
Big 3 record labels (Universal / UMG, Warner, and Sony) collectively has 70% market share globally ex-China.
Big 3 currently has only 30-40% share in China, the rest is dispersed across a longer tail of companies, one of the biggest and most diversified is HiM.
Adding to IP backlog brings forth recurring revenue, local connections, a repertoire of music synthesis talent, marketing operating leverage, and negotiating power against music platforms. All these factors are conducive to consolidation, and the Big 3 have grown historically via consolidation in other markets.
HiM Management Precedence:
Chairman Lu sold his prior record company "What's Music" to PolyGram between 1997 and 1999, which later merged with UMG in 2000.
HiM's chairman is turning 65 in a few years and, while he is still energetic and ambitious, may look to monetize at the right price.
Risks
Risk 1: HiM's revenue may be concentrated in a few stars which introduces "Key Man" risk.
Mitigants: According to management, the top 2 stars account for <25% of the IP portfolio playcount. We estimate the top star (Hebe Tien) may only represent 15-20% of the IP value. While it may be painful if an adverse event occurs, we believe the result would not be catastrophic. Management also understands the concentration issue and is actively building new stars as well as broadening the revenue source to include non-music venues – with decent success so far. Its Illustration artist franchise grew from 0 in 2013 to ~45 million TWD revenue today (10% of IP Revenue).
Risk 2: A drastic souring of Sino-Taiwanese relationship, given the issue of Taiwan's independence, could have an adverse impact to all cross-border cultural activities.
Mitigants: we spoke with a few experts on this subject. In general, China welcomes Sino-Taiwanese cultural exchange and even encourages it. The experts do not see any signs of cessation. A "ban" is typically targeted to only artists that speak openly in their music about Taiwan independence. HiM's artists are closely managed by HiM, and HiM has never had an issue with any of its 40+ artists speaking openly in the press or via their music about political matters. Without Taiwan taking concrete steps towards independence (such as declaring it outright), the experts don't see Chinese government blocking cultural exchange. Taiwanese music artists have been some of the most popular artists in China for decades.
Risk 3: The mainland IP landscape could change.
Mitigants: We believe HiM's assets and IP are strong enough to continue reaping value one way or another.
Disclosure: I am/we are long 8446 TT. I wrote this article myself, and it expresses my own opinions. I am not receiving compensation for it. I have no business relationship with any company whose stock is mentioned in this article.

Additional disclosure: Disclaimer: This report is the work of an investment adviser affiliated with the author. The report is the result of the adviser executing its investment strategy. The adviser holds a position in the security, however there is no assurance that the adviser will continue to hold the investment, or make additional investment and will not update the information to reflect future changes in the adviser's assessment of the investment.

Editor's Note: This article discusses one or more securities that do not trade on a major U.S. exchange. Please be aware of the risks associated with these stocks.

Source : https://seekingalpha.com/article/4114673-international-music-pure-play-chinese-record-label-10x-p-e-30minus-40-percent-eps-cagr

Thanks you for read my article HiM International Music A Pure Play Chinese Record Label At <10x P

I'M thank you because ur visit in the my website with title HiM International Music A Pure Play Chinese Record Label At <10x P. Happy reading